Forget The Tried-And-Tested. Your Kids Will Love These Unconventional Workshops!
Have some fun this by enrolling your child in a few holiday workshops!
Kids Holiday DJ Bootcamp by Ministry of DJs
Calling children aged 8 to 14, here is your chance to let your creativity flow and pick up a new skill this holiday!
4 Hours Holiday workshop:
• Learn to beat drop
• Learn to beat match
• Learn how to mix songs
• Recording your own mix
Instructors at the Ministry of DJ are current and prominent DJs in the industry, equipped with many years of experience entertaining partygoers on the dance floor. They are MOE approved with a handful of Guinness World Record Holders. Their studio is furnished with top Pioneer DJ equipment to support their enrichment program, ensuring that their students learn the skills with tools used at a professional level. Students will be guided from an introductory level, to become live performance-level professionals. They even provide opportunities for their students to perform at events.
Purchase this workshop at https://june2019.tueetor.com/course/kids-holiday-dj-bootcamp.
School's Out – Introduction to Drumming by Drum Tutor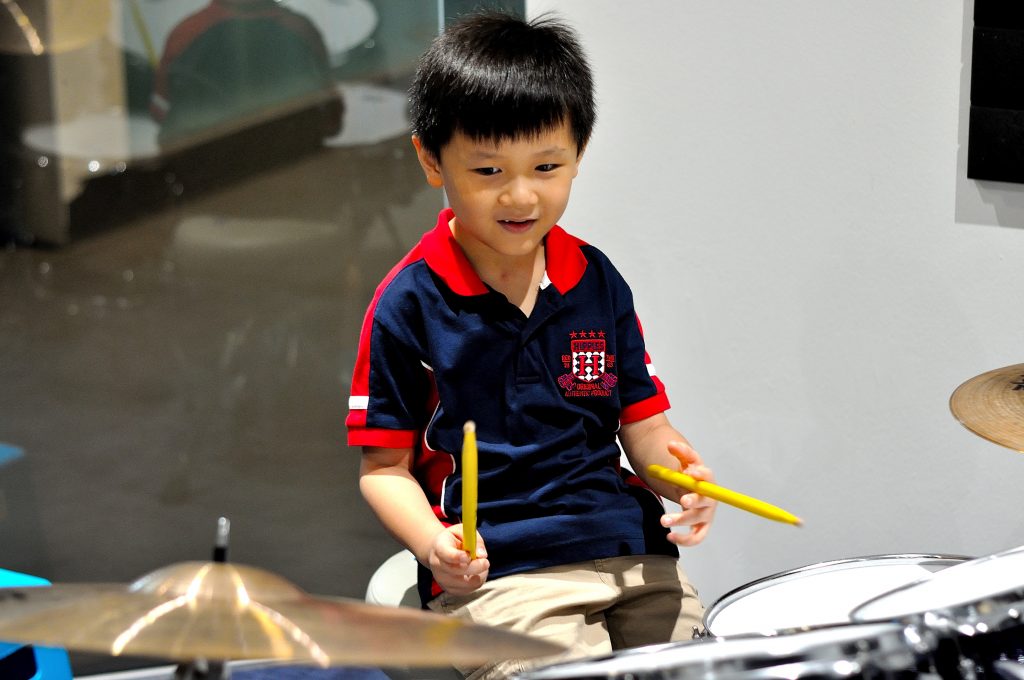 This is a 4-lesson course designed for kids (and their parents) during the school holidays!
You will get to learn introduction to rhythms, different parts of the drum kit, basic music notation, basic grooves and basic fill-ins. Most importantly, you will get to jam to a song at the end of each lesson! No formal training required for this course. This is a great programme for your mid-year and end-of-year break.
Drum Tutor offers an extensive and engaging drumming programme that caters to both kids and adults through it's own curriculum for students across all levels. The lessons are solely based on the pace of the student's learning ability whether is it learning a new song, working on grading examination materials or breaking down a certain groove or rhythmic pattern.
Purchase this course at https://june2019.tueetor.com/course/schools-out-introduction-to-drumming.
Scuba Try-Out by Scuba Voyagers
To all parents looking for an unconventional activity to do with your child – this is the safest way to try Scuba Diving!
The course is tailored to your abilities, with maximum attention given to you. Scuba Voyagers have a policy of having 1 Dive Instructor coaching no more than 2 students. Your class will include a safety briefing and a pool session with full scuba equipment (mask, fins, wetsuit, BCD, regulator, tanks and weights).
Purchase this class at https://june2019.tueetor.com/course/scuba-try-out.
A2 Kids Parkour Camp by A2 Parkour
A2 Parkour's Kids Camps are designed to provide an immersive experience for younger practitioners during their holiday season. Through the camp, they will be taught the techniques as well as the fundamental principles and attributes of parkour.
Kids will learn to roll, execute climbing, jumping and landing techniques, do various vault, learn various balancing and be exposed to basic flips. A2 parkour seeks to impart values that will instill confidence, creative problem-solving skills & leadership capabilities in them. This programme is catered to kids from 5 to 13 years old. Each child will be challenged to reach their potential as coaches get to know them individually during the course of the programme.
Purchase this holiday workshop at https://june2019.tueetor.com/course/a2-kids-parkour-camp.
Recreational Summer Holiday Workshop by The Yard
The Yard creates non-competitive classes and allows your child to experience various disciplines, including:
• Gymnastics: Focusing on building fitness, strength and a greater understanding of the core gymnastic elements of the traditional Olympic gymnastics events; vault, bars, beam, floor, as well as strength and flexibility.
• Trampoline: Trampolinists will develop strength and awareness to perform foundational jumps, basic and intermediate body landing skills, somersaulting concepts through a mix of fun and technically sound practices.
• Freestyle: Combining the rigor of gymnastics with creative acrobatic flair, The Yard's freestyle gymnastics programme teaches students, in a safe environment, an impressive array of acrobatic skills.
• Tumbling: Tumbling focuses on floor, vault and tumbles track skills. Classes work towards the prerequisites, progressions, and drills for rolls, cartwheels, round-offs, walkovers, handsprings (front and back) and aerial skills.
• Ninja: Children learn a combination of flips, rolls jumps and kicks. Strength and agility are tested through obstacle courses and various training techniques on their path to becoming ninjas.
Purchase this course at https://june2019.tueetor.com/course/recreational-summer-holiday-camps.
See the full list of June holiday workshops on june2019.tueetor.com.
Find a trainer near you on Tueetor! Visit tueetor.com or download our free app. Call us at +65 6206 6660 or drop us a message on WhatsApp at 9883 3867.