TUEETOR CHATS With Ramdan & Adnan from The Long Shot Training & Development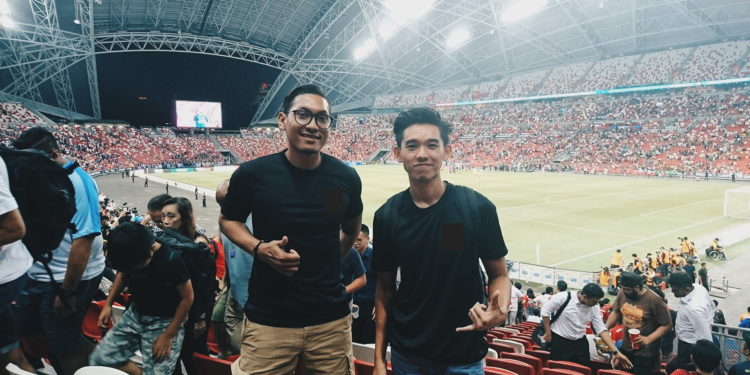 Started by 2 young Malay Sports professionals – Ramdan & Adnan, 'The Long Shot Training & Development' specializes in personal & character development via multi-faceted sports training programmes for young teens.
To cater to young children & toddlers, the founders set up an additional training wing 'SportyCubs', with the aim of education through sports for healthier child growth & development.
Discover how they came together & made it their lifelong mission to nurture the next generation of leaders, via their love for sports.
"Hi Ramdan & Adnan, GREAT to have you with us! Tell us how you got started."
Hi! We're Ramdan & Adnan, Partners-in-Crime (*Laughs) and we hit it off when we took up Sports & Leisure Management at Republic Polytechnic (Adnan: That's right – thank you RP! (*Chuckles)
As we got to know each other better, we realized that we have so much in common, especially in terms of our dreams, beliefs & core values. Both of us envisioned the same – that's to start a sports-related business that serves the community. Isn't that amazing?
After serving NS, we boldly started Danza Sports in 2015, which created & organized sports events for the community. However, this did not turn out well & we ceased it after 2 years. But we never gave up, & we knew that we would only come back stronger. Sports is our thing, & that we knew that we still wanted to build a business on this & make it work.
So we focused on upgrading ourselves, building our networks & accumulating more real-world experience. I continued to work as a professional trainer in the management sector and Adnan continued to master his craft in Sports Coaching. But we never forgot our dreams throughout this time.
When we came back together, we had way more clarity than before – in knowing where our strengths lay & who were the people we truly wanted to serve. With newly found confidence, we started The Long Shot Training & Development, which was built on resilience from scratch – coupled with a growth mindset.
We then started Sportycubs, with the aim of education through sports for toddlers from all walks of life. It's always best to start nurturing a child from a young age & that exposing them to different education platforms is crucial for their growth & development:
Meet the Cool Kids from Sporty Cubs! =)
"AWESOME! What excites you most about your industry?"
(*Smiles) Engaging in multi-sports also means Personal Development i.e. building your child's character, resilience & confidence, allowing them to build confidence levels & helping them discover & revealing their potential strengths. It's important all these should start when the child is still young!
For every child that signs up, we go the extra mile to coach another for free.
That's not all. We've made it our mission to help underprivileged families who face challenges affording such education for their kids – by providing a platform for their child to cultivate a love for sports & growth.
Join us in our efforts, as we continue to promote multi-sports to all toddlers & nurture the nations' next generation of leaders!
"We're Curious – Tell us what you enjoy most about your work?"
Seeing kids having fun in playing sports, knowing they're enjoying themselves! This is so endearing, & even brings out the inner child in us coaches! It's also about the sense of fulfillment when we see them improve by leaps & bounds especially on their fundamentals in each session – & making new friends in the process.
"What do you hope your students will achieve or take away from your training? You can also elaborate by telling us the journey of one of your students."
We want our students to understand the importance of having the right self-beliefs & core values – & sticking by them fiercely no matter what happens. And we want them to look at sports as part of their lives.
Recently, we had one student coming in without proper motor skills. But after just a few sessions, he improved tremendously on his fundamental movements – and found a newly-found love for soccer!
"Absolutely LOVE this man. What's the best piece of advice you've ever received?"
"You define success based on your own set of goals & the things you love to do."
"Follow your own pace. Don't compete with others but with yourself."
"Couldn't agree more. How about your role model? Tell us who inspires you?"
Lionel Messi. As a child, he diagnosed with Growth Hormone Deficiency (GHD), but he defied the odds by continuing to believe in himself & working hard – when nobody believed in him. Today he's one of the best footballers in the world!
"What have you recently learnt that just blew your mind?"
We *MUST adapt to change! During this pandemic, Sports Industry has taken a bad hit too & classes need to end abruptly. But by adapting & flowing along with the times, we build resilience & create new ways to engaging children & and innovate continuously in finding a way to keep children active – even when they are at home.
"If you had to teach something different, what would it be?"
Honestly, we can't see ourselves teaching anything other than sports haha! However, if given a choice, we'd love to explore teaching in the entertainment industry – music, drama etc.
"What is your 'me-time' like?"
Adnan & I are pretty much the same – we both love hanging out with friends & planning fun activities like trekking, playing games, sports, watching movies etc.
"Recommend us a book or film you think everyone should read – and why."
Watch the movie "Coach Carter". Strongly Recommended! This movie inspires coaches as well as add value to parents, this is because they will realise that a child's growth is the result of collective efforts from everyone in his/her environment, & that education & sports can shape a person's character & help them grow.
"Tell us a quote you live by"?
1) "Always begin with the END in mind."
2) "For every event that happens in life, what can we learn from this?"
*Ahem* "Tell us the 'Shameless Plug' for your business? Share with us what your company is best-known for?"
Oh – we're best-known for incorporating Character-Building activities in our Sports Sessions. Coaches are there to facilitate learning & provide an environment – where students will learn & adopt new core values.
"What we can look forward to in the coming months ahead?"
SportyCubs aims to create even more value for the masses by providing additional multi-sports sessions in Singapore. And yes, we're looking to nurture & groom more children – from underprivileged families!
"AWESOME! How can people connect with you?"
Reach and follow us on:
Instagram: @thelongshotllp
Facebook: www.facebook.com/thelongshotllp
Website: www.thelongshottraining.com
LinkedIn: @The Long Shot Training Development
Book The Long Shot Training & Development's Courses On Coursaver at 10% off Usual Now.