TUEETOR CHATS with E-Commerce Trainer, Nas Nvtalia
What is E-Commerce? Electronic commerce or e-commerce is a term for any type of business, or commercial transaction, that involves the transfer of information across the Internet. It covers a range of different types of businesses, from consumer based retail sites, through auction or music sites, to business exchanges trading goods and services between corporations. It is currently one of the most important aspects of the Internet to emerge.
In the coming years, it is expected that growth of E-commerce will increase like never before with all the current technologies. The rate of online shopping is increasing beyond measure rate. The convenience of shopping online captured almost everyone's attention, you no longer need to travel to the shop that you want to purchase your product at. By simply using your mobile phone or the internet, you can purchase almost everything you need.
I am pretty sure that most of us wants to start our own business, or better yet, start our own e-commerce platform. Fear not! If you are interested to learn more about it, Tueetor is here for you! We are an online platform that connects Learners and Trainers and have hundreds of the subjects and thousands of Trainers for you to choose from, With E-commerce being one of it, We interviewed our E-commerce Trainer, Nas Nvtalia as she shares more about herself and how could she help you learn more about E-Commerce.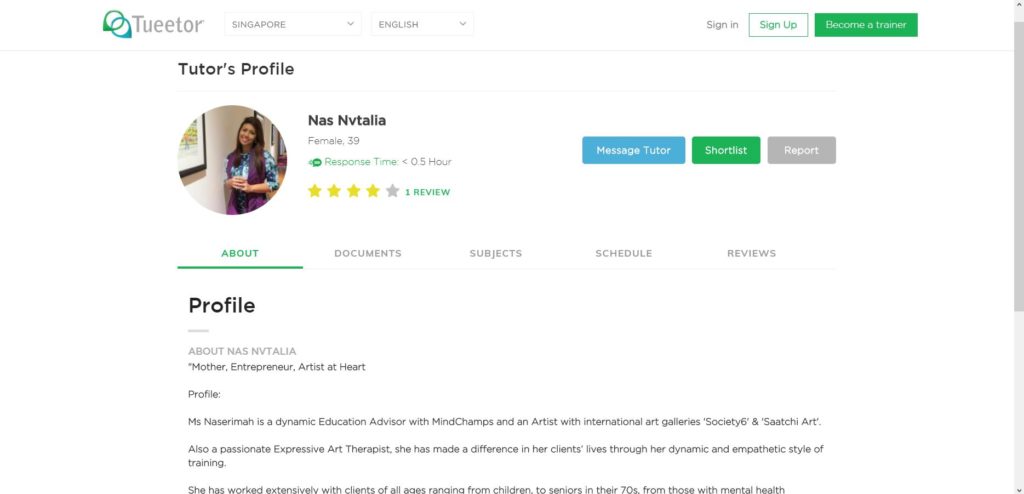 What's your story?
I remember I was in Primary 3 and I wanted a computer very badly so I asked my dad. We were not well to do and we couldn't afford a brand new computer. He bought me a second hand computer, back then in 1989, PCs were super huge and bulky and still using diskettes. The moment I saw the big bulky machine, I was ecstatic and immediately played with it. I explored the PC and played games and educational kids tutorial to help me improve my Maths & English every single day after school. Unfortunately, those happy moments only lasted for 3 months, and the computer busted, leaving only the command prompt available, no friendly UI to play with. Now when I think back, I realized it could be a graphics card issue.
So to keep on "playing", I explored and I learned myself to use the command prompt and how to save, copy, paste etc. It was still fun nonetheless! I honed my typing skills too! Haha
There was no internet in those days, so I stick to typing and fooling around with the hard disk and different commands available. It was not in good condition anyway, so I had no fear of it going bonkers on me.. 🙂
As I grew up, I graduated with a Diploma in Information Technology in Nanyang Poly. I specialize in E-Commerce and Web Design & Development. After being a mother of 3, 17 years later, I upgraded my skills to :
Certified Google Digital Marketer (Google)
Certified Computer Hacking Forensics Investigator (Comat Training)
Certified Social Media Analyst (National University Singapore)
Certified Digital & Social Engagement Strategist (National University Singapore)
I am still passionate about IT now as much as I was way younger.
What excites you most about your industry?
I am very intrigued by the fast emergence of Machine Learning, Artificial Intelligence, Data Science, Bots, the industry is growing by leaps and bounds at such a crazy rate! It gets my heart pounding. lol One of the most alarming statistics found that although women were 11% more digitally proficient than men, they account for only 30% of the digital workforce. I strive to do my part to increase that number 🙂
What do you hope your students will achieve?
I want them to increase their self confidence through IT literacy and increase their self worth by knowing they can create their own websites & even their own e-commerce shopfronts. I want them to see the possibility out of the box, that hey life is not just about working 9-5 in an office setting, you can have your own side online business too.
What's the best piece of advice you ever received?
"Every adversity, every failure, every heartbreak, carries with it the seed of an equal or greater benefit." ― Napoleon Hill
Who inspires you?
Jennifer Lopez, I know.. I know a little cliche. But I love her timeless energy. She is one of the most hardworking celebrity ever. She is a mother yet she is deeply involved in her movies, business ventures, song albums, concerts, TV shows. I admire her impeccable showmanship and entrepreneurial flair. I love her fitness discipline, I love her talents, her songs, her acting, her gorgeous Latina looks. Wait, how old is she again?
What have you just learnt recently that blew you away?
The secrets of "remarketing" those ads that you see following you everywhere, eg; you went to Courts and see this 50inch TV, and suddenly this exact model of TV pops up in your face on every web page you visit and social media platforms you go to. People are freaking out.. heee.. shh..
If you had to teach something different, what would it be?
I am also doing art therapy courses, that is also another one of my passion to help others
How do you unwind?
Bulletproof Coffee, Netflix, A good book and fluffy pillows!
Recommend us a book you think everyone should read and why:
Think & Grow Rich, Napolean Hill. Its not just about being rich monetarily but having that positive attitude, and determination for personal success.
Shameless plug for your business:
Professionally, I'm a Full Stack Digital Marketer with 15 years of Professional IT Experience, with a passion to serve. I own a Digital Marketing Agency that helps you (personal & corporate) make your digital presence "sticky". List of Services : Wordpress Shopify Magento Prestashop Opencart HTML PHP CSS XML Javascript Zendesk Domain Registration Web Hosting Google Analytics Facebook Analytics SEO Audits SEO Index Page Rendering Keywords Research SEM / PPC Google Business Content Writing Facebook Marketing Instagram YouTube Web Banners Design Backlinks Email Marketing
How can people connect with you?
FB : Noor Naserimah
IG : @nvtaliaromanova
Email : nvtalia@webgeeks.agency
www.nvtaliaromanova.com
www.webgeeks.agency
Twitter, LinkedIn handle?
https://www.linkedin.com/in/naserimah/
For more information on how to discover trainers on the Tueetor platform, call (65) 6206 6660 or visit Tueetor.com