TUEETOR CHATS with Alvin Loo of AcesMath
What do you remember from your secondary school days?
If it's tuition after tuition class, then you're no doubt familiar with tuition centres and their large class sizes with a lack of one-to-one coaching. If you think that only private tuition will help, don't make that switch for your children yet.
Here's Mr. Alvin Loo of AcesMath, as he debunks that idea in our TUEETOR CHATS.
Hi Alvin! How did you get started in your current line of work?
We observed that students are going to tuition centres with a high student to teacher ratio (even higher than schools!); these "cram schools" aren't really teaching but are just feeding them a set of prepared answers.
Hence, we started a centre with controlled class sizes (max 8) such that each student will always receive bespoke advice, academic ones and beyond.
We want to mentor the students and teach them skills, not just answers.
Who is a source of inspiration for you on your professional journey?
Not a specific "who", but rather the knowledge that there's always a student out there who doesn't understand what's being taught in his/her school. Not that he/she is intellectually incapable of understanding, but just need to be given a tailored approach through learning under a more conducive setting.
What's the most helpful piece of advice you've received?
Approach all problems from their basics.
What excites you most about your industry?
Education is one of the oldest industries in the world, it has evolved in many ways to reach its current form in Singapore and it is constantly changing. We are keen to see how various emerging technologies will be able to help us re-define what is a "classroom" and "testing for learning".
Locally, we are excited to see a re-emphasis for STEM (science, technology, engineering and mathematics) and how it can contribute to the country's vision for A Smart Nation.
How is AcesMath standing out in the Singapore marketplace?
We are a centre of Mathematics specialists.
All the teachers have experience preparing students in all syllabuses at secondary and high school level (AP, IGCSE, IB, "O", "A" levels, SAT, ACT).
AcesMath does not enforce off-putting policies, terms and conditions on our students.
For example, we do not enforce attendance on our students as we understand they operate on a packed schedule these days and we do not conduct trial tests to select students.
We believe everyone deserves access to a good education and we work with our students as partners.
What is AcesMath best known for?
The centre provides free study space for students to use as we recognise the lack of quality study spots in Singapore.
There's no restriction on timing as both our centres use electronic locks and we grant them access codes, we even had students bringing sleeping bags and studying overnight!
Free snacks are provided so long as they don't make a mess, we think it has the extra benefit of practising social responsibility.
Which part of your work brings you the greatest fulfilment?
It sounds cliché but it really is seeing the students' faces light up whenever they understand a new concept.
Tell us about a project you have done that you are immensely proud of.
It has got to be the design, renovation and setting up of our first outlet in an HDB unit right across Yishun Innova Junior College.
It was a residential unit and we went through the process of redesigning it such that it is suitable for commercial purpose. Simultaneously we had to set up our website, business operation procedures and dealing with government agencies.
It was a draining period, but we are proud of the result. I will let pictures of the place speak for themselves.
AcesMath's new outlet

AcesMath classrooms

AcesMath classrooms
What do you hope for each student/learner who goes through your course?
That they learn to apply problem-solving skills and heuristics beyond Math problems and school.
Share a story about a student/learner and their progression through your course.
There are simply too many! I'm sharing a screenshot from our Facebook page: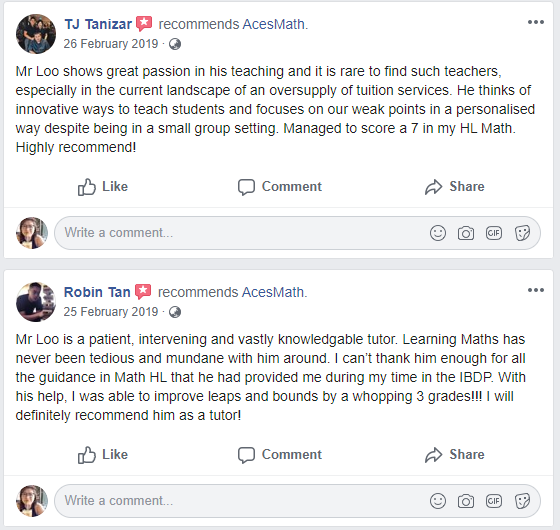 You can read more reviews on our Facebook Page!
What is one book/movie/show that has changed your perspective of work/business/life?
David and Goliath by Malcom Gladwell, it's a collection of stories of underdogs who wind up beating the odds.
Is there a quote that you live by?
"Never give in. Never give in. Never, never, never, never—in nothing, great or small, large or petty—never give in, except to convictions of honour and good sense. "

Winston Churchill
If you could, what is one piece of advice that you'd give to your younger self?
Read and travel more, broaden your horizons.
Tell us something new that AcesMath is currently working on.
We are hoping to open one more branch in Bishan sometime this year, and we are looking for partners in other subjects and lower schooling years.
What are some upcoming plans?
We are looking to provide online services which will help to expand our offerings and extend our reach beyond Singapore.
AcesMath 's courses are available on Coursaver right now, for 10% off retail prices!