Why Learning Art Matters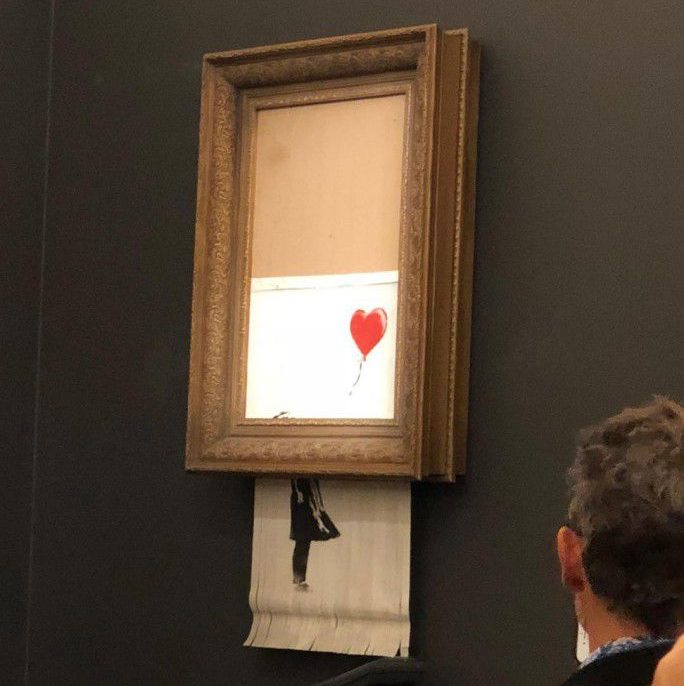 "The purpose of art is washing the dust of daily life off our souls."

Pablo Picasso
ICYMI: (Left, top picture) McDonald's Singapore ran a cheeky parody of Banksy's 'self-destructing' art, now known as 'Love in the Bin' (right top picture). The enigmatic graffiti artist, quoting Picasso, wrote on his Instagram, "The urge to destroy is also a creative urge." According to BBC News, Banksy's framed 'Girl with Balloon' (2006), one of his best known works, was being auctioned by Sotheby's in London, when it "self-destructed' – the moment the painting was auctioned to the highest bidder at 1.042 million pounds, it shredded itself (apparently with an in-built shredder housed within the frame of the painting.) Alex Branczik, Sotheby's senior director and head of contemporary art in Europe said to reporters, "It appears we just got Banksy-ed!" (Pictures courtesy of McDonald's Singapore Facebook and The Art Newspaper.com.)
When I was little I was first introduced to Art by way of the 'printed Wikipedia'; also known as the Encyclopedia. Even though it was an exorbitant sum of money (at least 2 months of salary worth from both my parents), my parents were so sold on the idea by the glib-tongued door-to-door salesman, that they scrimped and saved within a few months to purchase an entire set. As an added bonus for their valued support, the salesman gifted us with the bonus Art book, an edition which would make my encyclopedia 'more complete' with this 12th book. Although I especially loved the Geography and Zoology books of my beloved encyclopedia, I was mesmerized by the Art book, filled with photographs and illustrations of Van Gogh's, Monet's, Dali's and Picasso's works which were to me, almost other-worldly.
Then there was TV. One of the first Japanese anime I've ever watched was centered around the novel of the same name, A Dog of Flanders, which was written in 1872 by English author Marie Louise de la Ramee, under the pseudonym Ouida. I remembered what touched me the most was main character Nello's devotion and care he put into his charcoal drawings, and when he couldn't afford the pencils or charcoal, he used ashes to finish his drawings.
In the midst of all this inspiration provided by TV and books, I was then asking (myself and family), how do I go about learning Art? I was not blessed with artistic genes by any measure, and my parents were not able to send me for lessons, private or at the community centre. Then came the revolutionary TV show Take Hart which aired on local TV (then brought in by Singapore Broadcasting Corporation and distributed by Children's BBC) in the '80s. Tony Hart, the presenter of the show was, in my mind, the epitome of an amazing teacher; patient, calm and dispensing so many tricks of the trade that I was inspired to ART, in no small part due to Mr Hart and his clay/plasticine sidekick, a creature named Morph. Towards the end of his half-hour segment Mr Hart always featured drawings and paintings sent to him by children all over the United Kingdom, and I dreamt of the day I would be able to do the same.
What Exactly Do You Learn When You Learn Art?
Fast forward to the 21st century, and as a parent of 3 children, I want what every parent would want for their children: for them to thrive in an environment that allows them to feel safe, secure and inspired to want to express themselves, to learn to be creative and artistic not just for art's sake, but for their own.
The founder of Little Art Connoisseur (an Art academy cum studio, and a Premium Partner of Tueetor) Mr Moses Chua summed it up succinctly. He says to learn Art is to enable children to develop their minds and confidence.  Moses believes that if a child would like to be wired for creativity for life, he must learn to do so at a young age.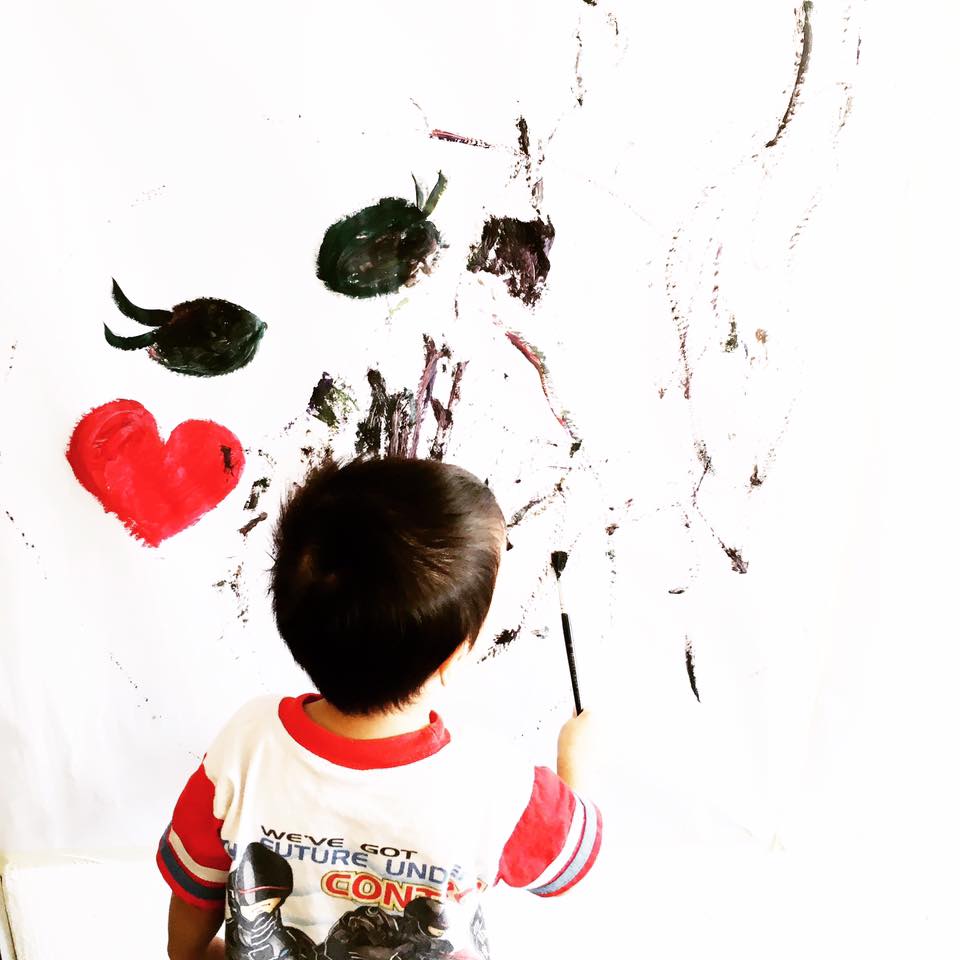 For example, the art courses he designs for his students aims to make LAC a one-stop collective information and training studio and centre, a place that allows children to develop in a playful environment. With splash art, PlayCraft and other workshops and courses he provides for children to learn art, he and his team of art teachers guide both children and adults to learn a wide repertoire of techniques, using varied materials and medium, to kickstart and develop their own aesthetic learning journeys.
It doesn't matter whether your child is gifted, has an innate ability, a moderate gift or perhaps like me have zero talent in learning art; all children should be given the opportunity to express themselves, to be allowed to illustrate their own experience – to wonder at the wonder of life, the bewilderment of their environments, the whimsy of it, the frustrations of it  – and this process allows them to connect with the new and the old, with other human beings, with life more meaningfully and more effectively.
According to Jennie Terman, of the US National Endowment for the Arts, "The Arts matter because they help us see the world from different perspectives. They give us empathy and help us understand people, places, periods of history and issues with which we may otherwise be unfamiliar. They comfort us in grief, and energise us in celebration. They are important because they can act as a catalyst for change…they can start a revolution! The arts ignite something in our brains that I can't explain, but I know it's essential for life."
According to Stanford University, the effects of engagement with the arts is well studied and documented. Research has shown that the arts have been proven to improve academic achievement – enhancing test scores, attitudes, social skills, critical and creative thinking. Stanford has also found that students who experience sustained involvement in the arts are overwhelmingly more likely as adults to found successful companies, publish important articles and patent new inventions.
In other words, arts participation in school or at the workplace strengthens creativity, which is the fuel that drives innovation. Learning arts not only make you smarter, but it's also proven that being creative breeds happiness. In his oft-quoted commencement address at Stanford University in 2005, Steve Jobs told the story of how a course in calligraphy taken in college directly informed his sensibilities 10 years later when designing the first Macintosh computer. As a student, he never could have guessed the impact that one class would have on his and the world's future, and that this one humble encounter with a new way of seeing everyday objects made all the difference in the world.
The 21st Century Skills Employers Are Looking For
Alicia Robinson, America's Hallen School's district director of visual and performing arts said, "The 21st century skills employers would be looking for are creativity, problem-solving, collaboration…not replicating what someone else is doing, but creating. The idea is to take nothing and turn it into something."
According to local media Young Parents, unlike academic subjects which focus mainly on results, Art is encouraging your child to experiment with materials and learning new techniques to help develop his intrinsic qualities and at the same time embrace enjoyment of the whole process – it's when he's free to express himself that he would feel truly affirmed and it is an entirely cathartic and joyful experience for him as well.
And when it comes to engaging children of special needs, the Arts matter because they have the power to change lives. They have the power to heal our minds and our bodies through special needs education, through arts programmes, creative programmes and art therapy. The arts have the power to help these individuals grapple with complex emotions and lead more productive lives upon discovery of their talents and refinement of their skillsets. The arts have the power to shape identity beyond the labels these people have been given. The arts are in a nutshell, transformative.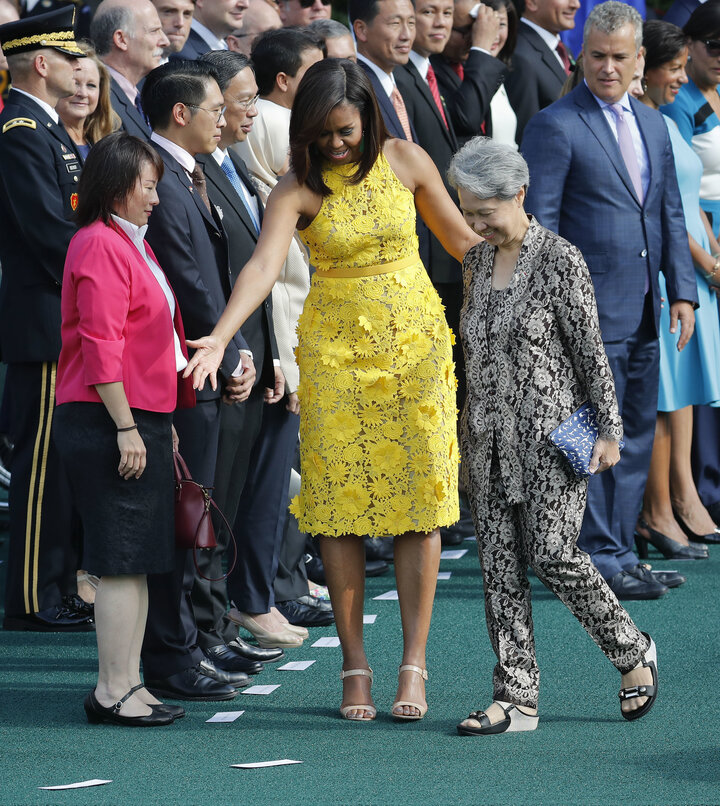 Take local accountant Yip Yew Chong for example. By all accounts, he is the epitome of every Singaporean Tiger mom's dream son. According to local blog Mothership.sg, Mr Yip performed academically well enough to be enrolled into Raffles Institution, Raffles Junior College and finally graduating Nanyang Technological University, majoring in accountancy. He has been an accountant ever since, but he has always dabbled in his other passion – Art since he was a child. This self-taught artist was so inspired to paint his own mural when he found a suitable wall at Everton Road, which was owned by Dr Victor Choa (great-grandson of Singapore pioneer Choa Kim Keat), that he approached Dr Choa to let him paint for free, promising he would whitewash it if Choa didn't like the results. Thus, 'Amah' was born.
"I enjoy the process of creating from a blank wall a piece of art that people can relate to and reflect on their own childhood memories." And to-date, Yip has produced some 25 and more murals, thematically underpinned with Singapore's historical heritage and cultural elements, bringing joy to passersby, visitors, tourists and the like.
In this instance, the arts matter because they can transform a place, represent a community, take you back in time, or move you forward into the future. It can help a person understand from where they came and where they are headed and allow them to interact with the beauty and uncertainty of all that occurs in between. Few other genres save music, have that sort of power and responsibility.
So what makes a good Art Teacher?
The perennial question that faces most parents when we look at the proliferation of art schools and teachers out there is how do we know if we've hired a good art teacher for our children? Moses says there are a few ways to know if the Art teacher is a good one. They are:
#1 At the basic minimum, good art teachers should be artists themselves.
As for Moses, he says his colleagues and himself are unabashedly passionate about helping their students become artists, because they care about how each student cultivates their outlet of expression, and they seek to inspire that similar drive for creativity. So if he is the go-to teacher for painting, be it oil, acrylic, or otherwise, he might defer to a colleague whose technique in watercolour or calligraphy is better than his; hence Little Art Connoisseur comprises of a team of teachers with varying artistic strengths; ensuring the students are taken care of in each genre of art.
#2 Good art teachers should know art history, should have some form of structure to the entire teaching process where the students can come away feeling they've levelled up on processes, techniques, materials and facts upon completion of a particular topic.
#3 Good art teachers always know they themselves are learners and should continuously research the artistic processes. Moses recommends those who love art sufficiently enough to want to train others to look for a mentor, and he says the reason he can constantly improve upon his processes, is due to the mentorship of 2 of his senpais, art teachers whom Moses still count on for advice and guidance all this time.
#4 Good art teachers do not just teach art for art's sake, they know how to have fun and engage with their learners; the idea is to enable their students to feel safe enough to speak up with their own unique voice and not be critical of that voice, no matter how loud.
The art teacher should be seeking to know each child's strengths and weaknesses hence helping them make better versions of themselves. And the good art teacher knows that even if that process will take several years OR just several months, each child is different, each child is unique. And they will do their best to guide the child to do his or her best – all at the same time having fun – which makes for a great Art teacher.
So when they say that you can't complete an education without learning Art…The truth is, you won't ever stop learning because of Art. And you won't ever feel complete, if not for the Arts.
For more information on Tueetor Premium Partner Little Art Connoisseur and its founder Moses Chua, visit https://tueetor.com/littleartconnoisseur or call (65) 9010 2279. And as promised, Yip Yew Chong's location listing of his street art is here: http://yipyc.com/ycs-mural-locations/ and have fun discovering his street art with your loved ones! Written and edited by Cecilia Leong.