Year-End Holiday Round Up: Workshops/Courses/ Camps to Sign Up For
For those who are stumped: either with too many ideas on what to do (and not enough annual leave to go around) OR too few productive ideas to keep yourself and your school-going kids occupied, here's the round-up you're looking for. Brought to you by the Tueetor Team and our Premium Partners #Enjoyyourholidays #Makememories #HolidayWorkshops Did I mention there're courses for adults too? (Compiled and edited by Cecilia Leong.)
#1 Programming & robotics camp with Advancedata Network Learning Centre
#2  Explore new worlds with a STEM holiday camp at AIM Learning Hub
#3 Get Pro in Business English/Chinese with Alpha Language School
#4 Get your eureka! moment in Math with eiMaths
#5 Zoom zoom and have fun with iSkate
#6 Get a turbo-boost on writing skills with Learning Journey Education Centre
#7 Create your own paintings and unleash the artist in you with Little Art Connoisseur
#8 Master a unique way of solving Math problems with Sakamoto Educational Systems
Advancedata Network's "Into the Future (Robots & Humans)" Robotic Learning Journey will enable coder-wannabes to perform an interactive session with smart robots. Not only will students be given a basic understanding of the world of programming, but they will also learn how programmers are able to bring about a sustainable future. They will also learn how much of the world actually depends on Artificial Intelligence.
Students will then get to learn to code their first programming script. The academy's instructors will then teach them to write down the concept and understand the logic behind each implementation.
Lastly, all these sessions will put into the practical test on programming their own robots. They will be able to physically experience how does logic in the programming language affect the output via the responding robots they have built. Activities and tasks will correspond to the level of difficulty/age-group of the students, with the holiday courses being completed in a progressive manner. Hence a very user-friendly course even for kids with absolute zero knowledge of programming.
Class size will be kept small of up to 10 students per session. This is to ensure all students will be given equal opportunity to explore the tools being taught and also integrate their programming with the robots they build.
The details
Cost
Beginner class – $250 + 1 Free Smart Robot
Advance Class – $250 + 1 Free Smart Robot
Tueetor Exclusive
Early bird special of $230 (usual price of $250) with registration by 15th Nov. Special Buddy Rate at $450 per pair.
Get an additional 10% discount on top of the early bird discount when you present a Tueetor's Learner account on the Tueetor app!
Date(s)
Every Mon, Wed & Fri for the whole month of December (weekend classes will depend on final class size), 1pm to 4pm daily
Session A: 4pm to 7pm daily
Session B: Choose your preferred session timing during registration.
Address
CCs & Libraries throughout Singapore, locations will be confirmed closer to start-dates.
Note
Age requirements (no pre-programming knowledge required)
1) Basic and advance levels for ages 7 – 17 years
*Upon completion of the beginner programme, students can opt for an advance class to learn more about the flow of programming, and other various types of programming.
2) Professional Level for ages 17 yrs and above (Adults welcome!)
This will be a standalone class by itself, targeting Adults and those above 17 years who are interested in learning python but using a much more fun and hands-on component (building a robot).
Those who sign up are requested to bring along a smartphone/tablet, or a laptop and/or Chromebook for the entire course.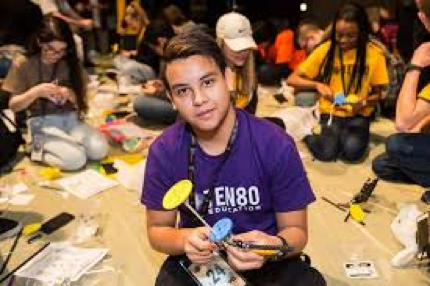 If you're looking for an all-inclusive STEM holiday camp that teaches Science, Technology, Engineering and Math (STEM) topics, Aim Learning Hub's Scratch Beginners and Scratch Masters' STEM Holiday Camps hope to provide a meaningful and fun environment for pre-school, primary and secondary school children.
Students are encouraged to solve problems with logical reasoning and will be provided with opportunities for collaborative learning and teamwork. All at the same time being introduced to block-based programmes using a hands-on, project-based learning approach. With topics encompassing space (galaxy wars), underwater world and dinosaurs, camp inductees will be inspired to discover, explore and learn in this inaugural STEM holiday camp conducted by AIM Learning Hub, whilst at the same time chalking up 21st century skills.
The details
Cost $390
Scratch Beginners (ages 7 – 9) 9.30 am to 12.30 pm
Scratch Masters (ages 10 – 15) 1.30 to 4.30 pm
Dates: 19th to 23rd November (5 days inclusive).
Refer a friend and get $15 discount off both for yourself and your friend.
Address
AIM Learning Hub at Blk 163 Ang Mo Kio Avenue 4 #01-424, Singapore 560163.
Calling ALL ADULTS (kids above 24 years only): If you've always wanted to level up your Business or Professional English or Chinese skills, these are the Skills Future-funded courses for you. Alpha Language School will be offering year-end courses to help prep you for your next level Career and/or, Presentation. Each language course comprises 8 to 15 units encompassing nuances in the language used in a Business environment. The idea is for the individual student to come away with language skills you can use at your place of work. All it takes is an investment of 4 weeks, twice a week. These courses are also SkillsFuture-funded and approved.
The details
Cost & Duration
Business English $388 + $30 material fee, 4 weeks, 3-hr lesson, twice a week
9th Nov to 1st Dec OR 7th Dec to 29th Dec (both dates inclusive)

Business Chinese $350 + $30 material fee, 3 weeks, 3-hr lesson, twice a week.
3rd Nov to 18th Nov OR 1st Dec to 16th Dec (both dates inclusive)
Address
20 Maxwell Road, Maxwell House #08-11, Singapore 069113.
Note
To sign up latest by 1st Nov for 3rd and 9th Nov courses. Open to all Singaporeans, 24 years and above. Minimum proficiencies required.
Designed as a primary-Math bridging-programme focused on creative thinking and problem-solving skills, eiMaths will be organising 2 different types of holiday bridging programmes and they are aimed at kids from K2 to Primary 2, as well as kids from Primary 3 to 5.
The purpose of the eiMaths holiday programme is to prepare your child for the Math challenges in the year ahead. This would give your child a head start going into 2019. Students will get to engage in activities to explore and learn mathematical concepts and skills in a fun yet engaging way. The idea is to stimulate your child's curiosity and expand his or her thinking skills particularly in Observation, Visualization, Judgement, Analytical, Memory and others.
eiMaths also aims to inspire kids' enthusiasm in exploring word problems through innovative teaching methods. Students will get to learn to develop independent thinking skills and learn to apply heuristics to solve challenging mathematical problems.
The details
Cost $180 for 4 lessons.
Tueetor Exclusive Early bird discount of $30 when you register before 15th Nov 2018!
Address
Available at all 16 eiMaths Centres. For a full list of eiMaths Centres' locations, click here.
What with all the restrictions on electronic mobile devices, there's still one way kids can get their adrenaline pumping – with good ol' roller blades! Kids will have plenty of fun on their skates and will also get to experience long-distance skating in the park. They will also get to play lots of interactive games to enhance their skill sets which were learned through their skating journey. Some will also get to reunite with their friends and others can join and meet new friends whilst being in this one-of-kind holiday skate workshop.
For kids without any skating experience, they will pick up the basics of skating, and will have bragging rights about skating unassisted by the end of the camp!
The details
Cost and Duration $30 per 90 min skate workshop.
Exclusive Tueetor Early Bird Discount: Sign up through Tueetor and only pay $25.
Time 10.30am – 12 noon.
Locations
Sembawang Crescent
Dates 11th and 25th Nov, 9th Dec (Sundays)
Punggol Waterway Park
Dates 10th and 24th Nov, 8th Dec (Saturdays)
Note Age requirement min 4 yrs to maximum 13. No prior skating experience necessary, beginners welcome!
Learning Journey's "Super Writers™ Composition Booster Workshop" for P3 to P6 helps students be imbued with useful techniques and strategies to improve their composition writing skills. Amongst the pro tips taught, instructors will cover planning drills and use of feelings, settings' descriptions, excellent phrases one can use, as well as suitable introductions and endings. There will also be composition analysis, as teachers will conduct individual composition analysis for each student. They will also help with actual practices for commonly tested exam topics.
The details
Cost $380 + $30 material fee.
Tueetor Exclusive $20 off fees with the use of Promo Code "Tueetor".
Dates 3-day workshop (9 hours session), available weekly from 17th Nov – 21st Dec 2018.
Address 
Serangoon: Blk 540 Serangoon North Ave 4 #B1-109, Singapore 550540 (entrance is next to letterboxes).
Between 17th Nov – 21st Dec, choose any 3 consecutive Monday, Tuesday and Wednesday. Select from time slots 12-3pm /3-6pm or 6-9pm OR Tuesday, Thursday and Friday 12-3pm.
Bishan: Blk 152 Bishan Street 11 #01-215 (2nd floor), Singapore 570152.
Between 17th Nov – 21st Dec, choose any 3 consecutive Tuesday, Friday, Tuesday. Select from time slots of 12-3pm/3-6pm/6-9pm OR Saturday 2.30-5.30pm and Sunday 12-3pm (9th, 15th & 16th Dec).
Punggol: Blk 658 Punggol East #01-09, Singapore 820658.
Between 17th Nov – 21st Dec, choose any 3 consecutive Wednesday, Thursday and Friday. Select from time slots of 12-3pm / 3-6pm or 6-9pm.
Note
Age requirement: P3 to P6
Ever wondered how you could personalize and create your own stunning greeting cards? Here's a workshop suitable for both Adults and Kids to learn how to Art and create your own beautifully-painted Christmas cards as one-of-a-kind gifts for your loved ones. Not only will you be given a basic backgrounder on the practical application of watercolour as a technique, but you will also learn about basic composition and design principals. All materials are provided.
The details
Cost $65 per person. Duration of 2 hours.
Dates Available dates to be confirmed.
Address
Little Art Connoisseur 333 Kreta Ayer Road #02-34, Singapore 080333.
Note
Open to Adults and Kids.
If you haven't yet read our blog on a patented method of solving PSLE Maths questions – the Sakamoto method which was named after its founder Dr Hideo Sakamoto – well, here's your chance to get acquainted with an easy approach to problem-solving highly challenging PSLE Math problems.
Upon completion of this "An Introduction to Sakamoto Maths" workshop, students will then be able to enroll in regular classes at Sakamoto, where they will get to practice what they've learnt and continue to master Math painlessly. Students may even choose to participate in the World Mathematics Competition, organised by Sakamoto. The workshop is especially geared towards Primary 3 through Primary 6 students. Parents who are interested in attending this workshop may check with Sakamoto for parents' preview workshops as well.
The details
Dates 1st & 2nd Nov, 6 – 9 pm and 3rd Nov, 10am – 1pm
Cost $170 and up (Free Sakamoto ring file!)
Address
Sakamoto Education Systems at 423 Hougang Avenue 6 #B1-102, Singapore 530423.